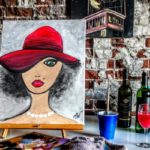 Happy Trees at the Hook Painting Party – September 20, 2019
Open BYOB Painting Party
Painting Parties at Hook Gallery & Framing are a fun way to enjoy happy hour, reconnect with the girls, celebrate upcoming nuptials or the birth of a little one, or even impress a first date.
Come solo or bring some friends, bring wine or other beverages, and we will provide the rest: supplies, instruction, and a fabulous experience. We can coax out the inner artist in anyone!
The paintings for open BYOB painting parties are pre-selected. Buy a ticket to reserve your seat for your preferred night!